About the Old Wood Workshop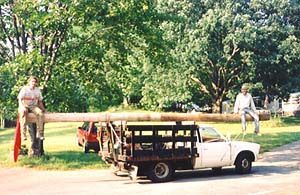 Celebrating 25 years of
"Giving Old Wood New Life"™
Owner/operator Thomas Campbell began his reclaimed wood business in 1991, salvaging New England barns and making custom furniture from the beautiful antique wood he saved from these structures. From there, he transitioned to salvaging interior components of 18th century and early 19th century houses, from antique floors to period doors and fireplace mantels, to antique iron hardware and antique stone.
"I am now focused on selling the best antique flooring I can find. I salvage floors myself, but I often buy floors from others in the business. I still have many architectural antiques for sale, but I am not replacing them as I sell them.  Eventually I hope to be selling only flooring. If you see something you're interested in, other than flooring, make me an offer."
​
Old Wood Workshop is based in Pomfret Center, Connecticut, and you are welcome to visit. I am available by chance, but strongly suggest making an appointment to visit. Although I do not have a traditional retail shop, our 1730s colonial farmhouse showcases my work, including flooring, tables and other unique architectural items."
The Old Wood Workshop specializes in antique original surface, 18th century & early 19th century wide board flooring, reclaimed antique wall board and other salvaged wood. We do not re-saw or re-mill material, but instead look for 150 to 300 year old flooring that has never had its surface altered, other than being foot worn. We also have a unique selection of architectural antiques, such as antique iron hardware, antique doors, antique stone, period fireplace mantels, and other unique items. Our inventory is updated often.
The Old Wood Workshop can provide quality reclaimed antique wood for homeowners as well as building contractors, designers or architects. We also supply small batch stock for cabinetmakers, furniture makers or other woodworking projects, including musical instruments.